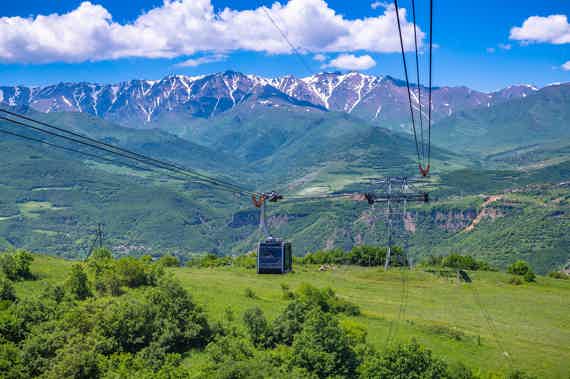 Wine, Monasteries and the longest ropeway in the world
On this tour, we will pass through the center of winemaking in Armenia, visit a monastery in a gorge with red rocks, and ride the longest cable car in the world, at an altitude of 320 meters above sea level, which will take us to another Armenian monastery surrounded by rocks.
Private
6
3 days, 2 nights
Magnificent Artsakh (Nagorno-Karabakh)
A three-day sightseeing tour by car from Yerevan to the beautiful region of Artsakh (Nagorno-Karabakh). During the tour, you will get acquainted with the rich cultural and historical heritage of this region, its customs, legends, and its famous cuisine.
Amazing Adventure
A fascinating and interesting excursion to the ancient astronomical observatory Karahunj, to the Devil's bridge and the ancient cave city of Khndzoresk, in a comfortable car.
You will also be interested
The Best Tatev monastery Tours in Yerevan 2023
1 guided tours to Tatev monastery in Yerevan (Armenia). Discover the city on a sightseeing tour and explore the Tatev monastery with our live or audio guide. Easy online booking and payment.