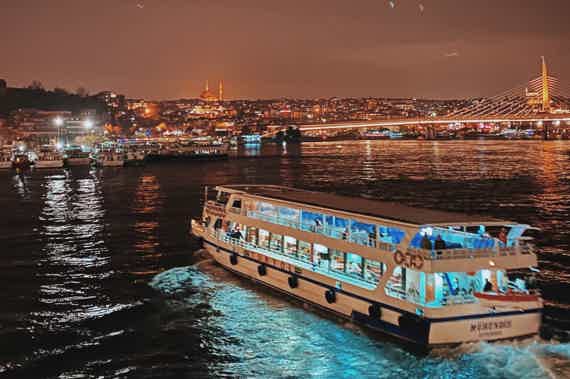 Istanbul: Bosphorus Dinner Cruise & Show with Private Table
Take in views of the city while listening to live music and watching stage performances over a scrumptious dinner at a private table.
today at 20:30
tomorrow at 20:30
Istanbul: Turkish Entertainment Bosphorus Dinner Cruise
Cruise between 2 continents as you dine on Turkish meze on a 3-hour Bosphorus cruise of Istanbul.
today at 20:45
tomorrow at 20:45
Bosphorus Evening Cruise Tour
If you want to both enjoy the Bosphorus and see the actual locations of the city, this tour offers you the opportunity you wish to.
tomorrow at 16:00
Sat, 25 Mar, 16:00
The Best Golden Horn Tours in Istanbul 2023
3 guided tours to Golden Horn in Istanbul (Turkey). Discover the city on a sightseeing tour and explore the Golden Horn with our live or audio guide. Easy online booking and payment.