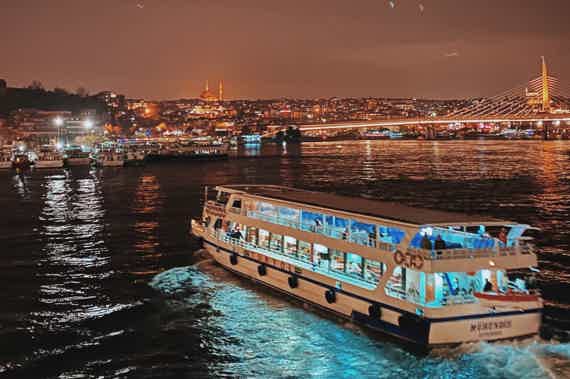 Istanbul: Bosphorus Dinner Cruise & Show with Private Table
Take in views of the city while listening to live music and watching stage performances over a scrumptious dinner at a private table.
tomorrow at 20:30
Sun, 26 Mar, 20:30
Bosphorus Evening Cruise Tour
If you want to both enjoy the Bosphorus and see the actual locations of the city, this tour offers you the opportunity you wish to.
tomorrow at 16:00
Sun, 26 Mar, 16:00
Bosphorus Sunset Cruise Tour
Explore the Bosphorus for a 4-hour journey and see how the day begins in Istanbul with your loved ones. So you can see the city from an entirely new perspective.
tomorrow at 17:00
Sun, 26 Mar, 17:00
Tours near the attraction
Istanbul: Bosphorus Sunset Cruise on a Luxurious Yacht
Witness the enchantment of Istanbul with a 2.5-hour sunset cruise along the beautiful Bosphorus.
tomorrow at 17:30
Sun, 26 Mar, 17:30
The Best Dolmabahce Palace Tours in Istanbul 2023
4 guided tours to Dolmabahce Palace in Istanbul (Turkey). Discover the city on a sightseeing tour and explore the Dolmabahce Palace with our live or audio guide. Easy online booking and payment.