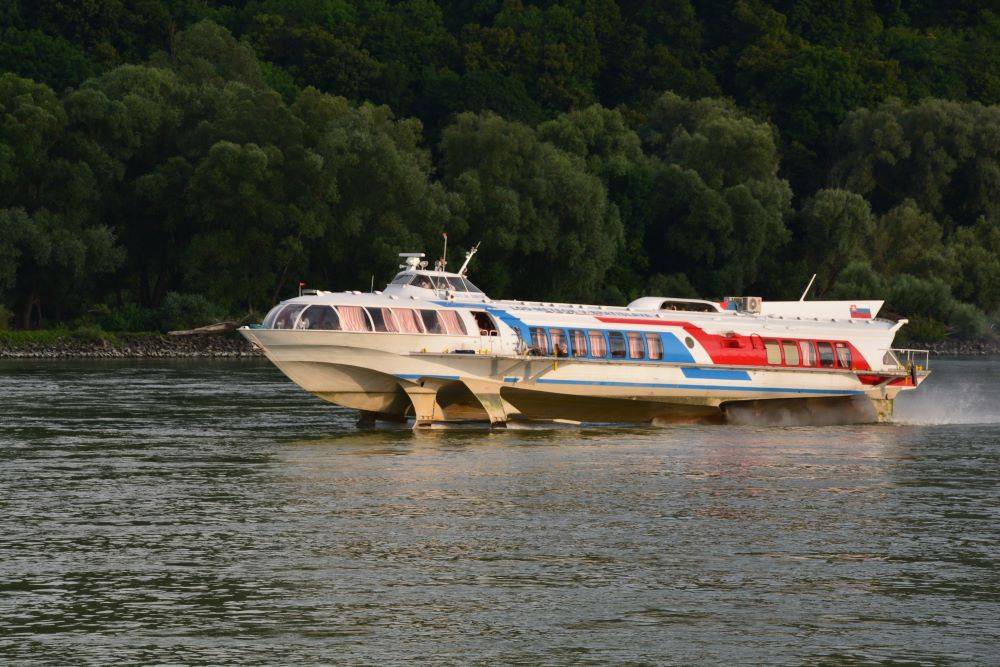 Hydrofoil travel, the elegant dance of boats skimming the water's surface, combines speed with scenic views. When it comes to the heart of Europe, the Budapest to Vienna route offers travelers an exceptional experience, blending culture, history, and luxury.
You may be interested in: Day Trips From Budapest and Day trip from Budapest to Vienna.
Table of contents
History of Hydrofoil Service between Budapest and Vienna
Initiated in the mid-20th century, the hydrofoil service between these two iconic cities was envisioned to enhance cross-border connectivity. Over the years, the service has seen technological advancements, growing from basic vessels to today's luxurious crafts. Notably, in the late 1990s, the service witnessed an unprecedented surge in popularity among tourists and business travelers alike.
The Hydrofoil Experience
Upon boarding, passengers are greeted with modern interiors and plush seating. Amenities such as onboard Wi-Fi, dining services, and panoramic windows elevate the journey. The trip, spanning roughly 2.5 hours, gifts travelers with vistas of the Danube's banks, historic landmarks, and picturesque towns.
Advantages of Hydrofoil Travel over Other Modes
The hydrofoil stands out in several ways:
Speed and efficiency: Quicker than traditional boats and competitive with road travel.
Environmental benefits: Reduced water disturbance compared to larger vessels.
Comfort: Spacious seating, fewer vibrations, and a unique travel experience.
Directness: Both Budapest and Vienna's terminals are centrally located, making city transitions smooth.
Practical Information
Tickets can be booked online or at terminals, with prices varying based on class. Departures are usually in the morning, with afternoon returns, but it's advised to check schedules. Luggage allowance is generous, but oversized items might incur fees.
Exploring Budapest and Vienna
In Budapest, travelers can indulge in the thermal baths, explore the Buda Castle, and wander along the Danube promenade. Vienna, the city of music, welcomes with the Schönbrunn Palace, Viennese coffeehouses, and a rich musical legacy.
Alternatives to the Hydrofoil Service
While hydrofoil is exceptional, other options include:
Trains: Offering frequent services but longer travel times.
Buses: Economical, yet less comfortable.
River Cruises: Slower but with immersive experiences.
Each mode has its pros and cons, catering to various preferences.
Conclusion
The hydrofoil service between Budapest and Vienna isn't just a mode of transport—it's an experience. Travelers seeking efficiency, luxury, and unique perspectives will find this journey unforgettable.
Popular excursions in Budapest
Please list e-mail or phone number linked to your account to receive restore password link.