Szechenyi Thermal Bath Tours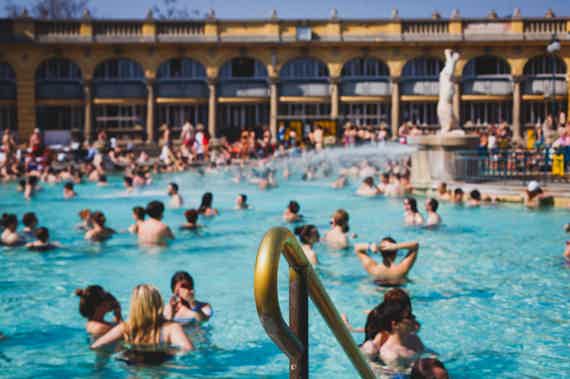 Széchenyi Spa Full-Day Tour & Interactive Pálinka Tasting (Optional)
Relax at Széchenyi, the most famous spa in Budapest, and enjoy an optional free interactive pálinka spirits-tasting tour where you will discover more of the history and culture of Hungary.
today at 17:00
today at 18:00
The Széchenyi Thermal Spa Late-Night Spa Party
Enjoy an unforgettable spa party in the iconic Széchenyi Thermal Spa of Budapest. Choose from a variety of ticket options and embrace the unique spa culture of the city in a revolutionary way.
tomorrow at 21:30
tomorrow at 21:30
Tours near the attraction
Private 4-Hour Walking Tour with a Local
This private walk through Budapest is a chance to get off the beaten path and see hidden gems, or to see the most important sights, if you prefer. Go antique hunting, or discover the city's architecture or cuisine on this personally tailored excursion.
The Best Szechenyi Thermal Bath Tours in Budapest 2023
3 guided tours to Szechenyi Thermal Bath in Budapest (Hungary). Discover the city on a sightseeing tour and explore the Szechenyi Thermal Bath with our live or audio guide. Easy online booking and payment.