Aquaventure Waterpark Tours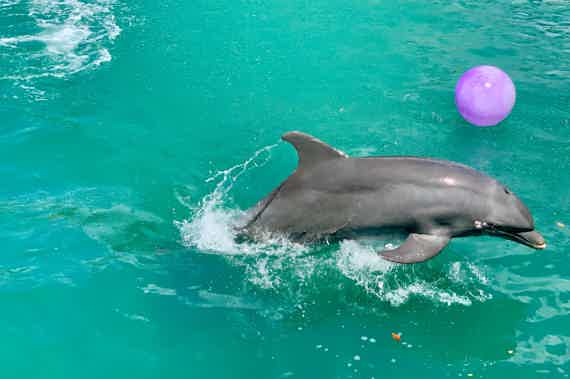 Play with Dolphins in Dubai's Atlantis Waterpark
Interact with playful dolphins during this dolphin encounter at Dubai's Aquaventure Waterpark at Atlantis the Palm with this ticket. Connect with your dolphin and get same-day access to the waterpark.
tomorrow at 10:10
tomorrow at 10:30
Mini group
10
1 hrs 30 min
Dubai: Dolphin Swim And Aquaventure Waterpark
Experience a one-of-a-kind interaction with dolphins in the depths of the Dolphin Bay lagoon in Dubai. Designed for confident swimmers, feel the thrill of a deep-water swim during this program.
tomorrow at 09:30
tomorrow at 10:10
Dubai Hop-On/Hop-Off Observing Bus Tour w/ Options for 24, 48 or 72 Hours
Discover dazzling Dubai by jumping on board one of our iconic, open-top red buses! Explore this ever-expanding city, which is home to some of the world's most iconic buildings and landmarks such as the Burj Khalifa, Old Souk, and Atlantis the Palm.
tomorrow at 09:00
Sun, 2 Apr, 09:00
Tours near the attraction
Dubai Speedboat Tour: Marina, Atlantis, Palm & Burj Al Arab
Departing from the famous Dubai Marina, take an exciting day-time sightseeing tour with an English-speaking guide. Capture pictures and enjoy the ride around all Dubai's top spots. Drinking water and safety equipment provided.
tomorrow at 09:00
tomorrow at 10:00
You will also be interested
The Best Aquaventure Waterpark Tours in Dubai 2023
2 guided tours to Aquaventure Waterpark in Dubai (United Arab Emirates). Discover the city on a sightseeing tour and explore the Aquaventure Waterpark with our live or audio guide. Easy online booking and payment.